Sage Music School
"Transforming students into musicians."
"In the amount of time that I have been a voice student at Sage Music, I have noticed a significant amount of growth…I can now say I have more confidence and ability to perform in front of a live audience. I recommend to anyone wanting to learn and master an instrument or voice. Sage Music is the place to be!"
– Gabby Fontes Music, Google Reviews

Offering music lessons in Long Island City, Queens, NYC & San Antonio, TX & Online Worldwide
"I had my first Violin lesson [online]…with Jeremy and it went very well. I felt very comfortable with him and his style of teaching left me feeling encouraged and with the sense that I have come to the right place for real growth in my violin playing. I'm excited and looking forward to my next lesson."
– Ken Gill, Google Reviews
What you'll get at Sage Music that no other music school offers
The Sage® Student – Our flagship course will teach you everything you need to know to learn and master any music. When you graduate, you'll know more about learning music than teachers at other schools do.
The ARPEGGIO® lesson system – Quickly and easily learn the music you want in our top-rated music lesson system. Classes are structured, step by step, and designed to keep you on track to achieving your goals.
Sage® trained teachers – There is no better teacher than the Sage Music teacher. Where other schools hire performers to teach music, we hire professional teachers. Then we put them through our rigorous music teacher training, so you'll get the most qualified teachers around.
Music Match – Looking to meet new people to share your passion for music? Just lest us know and we'll connect you with other students just like you so you can practice or make music together.
Relationships – We want a relationship with you, not a transaction. We promise to treat you like the unique person that you are.
Community – We've got an incredible community of great people like you, in person and online. Join our online groups, concerts, recitals, open-mics and more.
Student Onboarding – Before starting your guitar lessons, you'll meet with a senior member of our team to determine your goals, set your preferences, discuss your learning style, and assess your skills and experience. Together we'll build a plan for your music studies.
Sage Music Meet – A dedicated private virtual lesson room that allows you to share music, video files and musical scores. You can set up multiple cameras and video feeds for the best view.  And you get lesson recordings so you can go always back and review your previous lessons. Parents will also feel secure knowing they can join the lesson at anytime and that lessons are always recorded.
"Looking for a place to get lessons and get the added benefit of being part of a musical community? Then Sage is the best! …I've been blown away by the quality of my lessons, the pedagogy and the warm, friendly faculty! They have done everything to make this beginner feel like a musician and my playing has never been better! Highly recommended!"
– Steven Silva, Google Reviews
About Sage Music School
We believe that everyone – and that includes you –  is capable of playing music well. You just need to be shown the right ways to practice and play music.
So we give you the tools and strategy needed to play any music that you want. We focus on your goals and on the music you want to play.
Students Stay at Sage Music 3x longer than other music schools
We focus on your wants and needs. And we work toward your personal goals in your music lessons. Couple that with our amazing customer service, our ARPEGGIO® lesson system – which is backed by science – and our strong community, its no wonder that students stay with us so much longer than other music schools.
Or maybe it's our teacher training program. No other school invests so much in their teachers, or trains them at all. We invest in them so that they can invest in you.
This guarantees you'll get consistent high-quality music lessons from each of our expert teachers. And you'll get the fastest progress, all while feeling confident about your skills and your growth.
Maybe that's also why we have students who literally fly to our music school from Texas, Florida and abroad for music lessons.
Such an incredible experience. Would highly recommend Sage Music to anyone – whether you are picking up an instrument for the first time, or just looking to improve your practice in a specific area, Sage Music really meets you where you're at.

– Emily Woisin, Google Reviews
Individal Attention and Goals
We aim to give you the individual attention you want and deserve. Our private lesson program is designed to focus on your personal wants and goals.
You'll start with an onboarding session with our Education Manager or a senior faculty member. They'll help you set your goals.
Then your teacher will work with you one on one to help you achieve your goals. All with personalized lesson plans, designed just for you.
I really appreciate the step by step approach at Sage Music. I also especially like the way the focus is on your personal goals. I've been at Sage Music for just about three months and already see much progress and feel more focused.

– Tzemach G, Google Reviews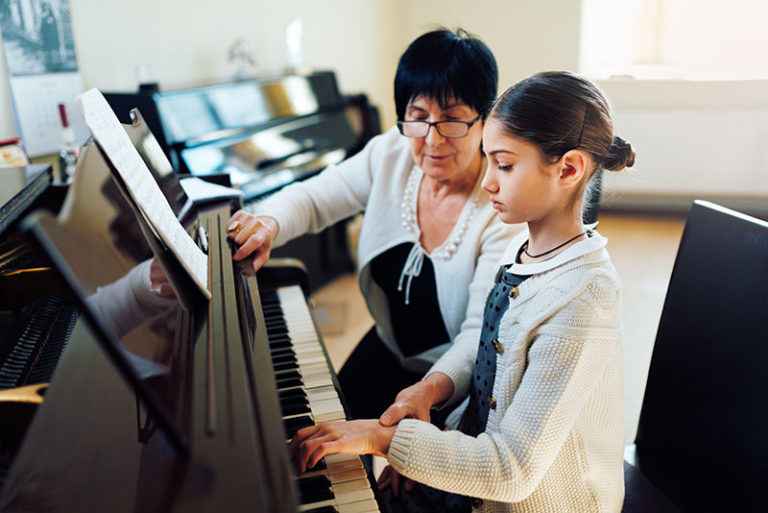 The ARPEGGIO® music lesson system
Unlike other schools, we have developed a unique teaching system which guarantees you'll get the best education and the best customer service in each and every music lesson.
Our teachers are trained in our proprietary Arpgeggio® music lesson system, as well as in the best methods for teaching you to play music.
The system provides a framework, which creates stability and consistency. Yet it's designed to be flexible so that it can adapt to your individual needs.
What's more, ARPEGGIO® is backed by science! It's built on the research into how peopel best learn and function.
I am so impressed with Sage Music – this school has it down! I feel like I have a family there, taking such good care of me…Highly recommend!

– Lynn Levy, Google Reviews
Request More Info About Sage Music School Now
When you request more information, we will email you with more information about our school. Plus our office staff will reach out to you directly. They'll answer any questions you have about piano lessons, pricing, programs and more.
Sage Music is rate 5.0 on Google and Facebook 
Sage Music Founder, Jason Sagebiel
Jason Sagebiel is not like any music teacher you may have encountered before. After suffering a traumatic brain injury in the Iraq war, his cognitive and motor skills were left impaired. He turned to music during his recovery and coincidentally began the next chapter in his life, as a music teacher.
Inspired by the research and therapy that helped him to recover from his injuries, he developed a pedagogy and approach to learning and teaching music using techniques based on the science and psychology of learning.
His inspiring story has been documented on TV, radio, and in two books: Jon Pieslak's SoundTargets, and J. Martin Daughtry's Listening To War.
A Note From The Founder:
I'd like to thank you for taking the time to visit our website and for the interest you have shown in Sage Music. I believe that studying music is a wonderful pursuit that helps makes us better, happier people.
You will find that the creativity you need to solve musical problems is the same creativity that will make you happy, successful, and productive in other areas of your life.  Although, that alone is not the best reason to study music.
We study music because it is good in itself, and because the rewards of music are many. We connect with others through music, as it is a universal language. It makes us happier when times are good, and it comforts us in time of loss or grief.  The emotional and social benefits notwithstanding, commercial music alone is a $15 Billion US industry with ample opportunity.
I hold my teachers to high standards so that you will learn quickly in a relaxed, engaging, and welcoming environment. I expect that they understand how musical skills are learned, and how they are best taught.  For that reason I guarantee you the fastest way to learn, as we challenge you to achieve your full potential.
I believe education is about more than just learning skills. It's also about learning to think critically and independently.  It's about applying what we have learned to be engaged in our world, and to be responsible members of our community. I believe that through music we become happy and healthy individuals.
With that, we can form great relationships with others, and build positive communities. It is my wish that our holistic approach to music and teaching will help you grow as musician and as an individual.
Request More Info about Sage Music School
Please consider joining my school as a student, a teacher, a mentor, a concert goer, or just someone who wants to enjoy our community. All are welcome here, no matter age, experience, goals, or aspirations. We accept students of all backgrounds.
Some of our students have professional aspirations, others are just hobbyists. We work as best we can to cater to the needs of veterans, students with disabilities, or anyone else who needs a little extra attention.
We are looking forward to helping you along your musical journey. Please feel free to contact us at anytime.
Sincerely,
Jason E. Sagebiel
Founder of Sage Music
MTNA Nationally Certified Teacher of Music, 2010
Master of Arts in Music, Queens College, 2007
Bachelor of Music, Magna Cum Laude, Loyola University, 2001
Sergeant, United States Marine Corps, Retired.
Assistant Professor of Music, City University of New York
Our Music Students:
The students that walk into Sage Music are no less diverse than this city. They may be young students just beginning their musical journey to artists that are shaping our vibrant music circles.
Some of our students are in retirement looking for an outlet, while others are beginners looking to immerse themselves in music. We have professional producers and film scorers looking to improve their keyboard skills. We have have parents who want a well rounded education for their children, and we have weekend rockstars hoping to hone their technique to wow their audiences.
Our students include beginners, hobbyists, professional Broadway performers, and even cast members of Saturday Night Live.
No matter what your goals, Sage Music is here to help you grow into the musician you hope to be, and sometimes into the musician you didn't think you could be.
Though our students have different goals, they do have some things in common: Our students have goals. They are here to learn to play music well. They expect the best from themselves and don't settle. They are here to learn and to achieve success, no matter how they define their own success.
If you think you might be like our students, check out our success stories via student profiles.
Philosophy:
At Sage Music, our goal is simple:
To transform students into musicians with music lessons that deliver real results.
We help our students become solid musicians, by enabling them to learn and practice and perform music on their own.
We achieve this by a combining traditional music pedagogy and enhancing it with the research into neuroscience, psychology, biomechanics, wellness, and other related fields of study.
This produces our holistic, interdisciplinary method of teaching. We often talk about 'how one learns' as a key to understanding each student's particular needs, so that we can enable our students to achieve the results they desire.
Students are thus guided to find and share their own musical voice on the instrument of their choosing in an open, supportive environment.
In order for our teachers to provide the highest quality lessons to you, we provide the highest level quality of training to our teachers.  We are the only music school that trains its staff in this way. We invest in our teachers, because they in turn, invest in you.
Learn how Sage Music's trained teachers help you quickly reach your goals. 
We strive to be friendly, engaging and encouraging while giving you constructive feedback and methods to improve. And this is why our students come to study with us — to become confident and well-rounded musicians.
Founder & CEO
MTNA Nationally Certified Teacher of Music
Bachelor of Music, Loyola University New Orleans
Master of Music, City Universty of New York
Sergeant, United States Marine Corps, Retired
Andrew Flippo
Chief of Staff and Assistant to the Founder
Sage Music Teachers
Sage Music's teachers are the best trained music teachers anywhere. We recruit musicians who are excellent performers and passionate about teaching.
Then we train them in the best methods for learning and teaching music – the Sage Music Teacher Training program. In fact, no other school does this. That's why our team is a cut above. We work together to constantly improve as teachers.
So you are guaranteed to get the most out of your lessons with us. We invest in our teachers so that they can invest in you.
As a group, Sage Music teachers have taught at major universities and concert halls such as Carnegie Hall, Lincoln Center, Blue Note, and more.
They hold Bachelors, Masters, or even Doctorate degrees in music performance, music therapy, or music education from institutions like Yale, Manhattan School of Music, Mannes, CUNY, and more.