Innovative Ways to Learn Trumpet with Lessons in NYC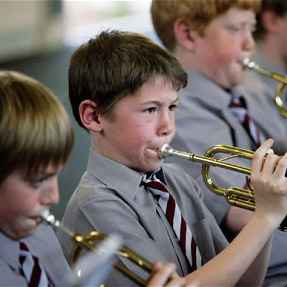 Trumpets are among the oldest musical instruments dating back to at least 1500 BC. Played by blowing air through closed lips and producing a "buzzing" sound, the trumpet transforms into an elegant and versatile instrument that crosses musical genres.  At Sage Music, we teach students of all ages the skills to start playing.
Sage Music offers private lessons in a warm and welcoming environment with NYC's finest and most dedicated instructors. The teachers at Sage Music are just as committed to your growth as you are. Our innovative educational philosophy draws from traditional and progressive methodologies to provide a fast-track lesson plan tailored to your specific needs and goals. All instructors hold performance degrees, music education degrees, and have been trained in founder Jason Sagebiel's pioneering music education philosophy. His ideology is culled from traditional music school pedagogy and enriched with tenets from psychology, holistic approaches to health and well-being, and communal creativity.
Get started with your trumpet lessons now and continue the journey to becoming a better player. Just fill out our contact form and we will be in touch to get you started or to answer any questions about our program.
Request More Info about Trumpet Lessons in NYC now!
When you fill out the form, we'll send you more info about our trumpet lessons and programs.
Music school founder shares his story and passion for music
Pricing
Discover the best rates for trumpet lessons with starting price from $207 tuition per month including 4 private lessons. The cost includes monthly concerts, recitals and another opportunities to meet likeminded people for no additional fees. Find the best prices for lessons that suit your individual needs in welcome and friendly atmosphere that guarantee proven results now.
You can take advantage of all of the unique resources available at Sage Music for one low monthly fee. When you sign up for our monthly package, you will receive 4 private weekly lessons with our expertly trained faculty so that you make steady progress toward your individual goals. Lessons are given in a friendly and welcoming atmosphere that guarantee you proven results. Rates start at $207 per month. And yes, there is more! You will also receive admission to our concerts, recitals, workshops, masterclasses, and other events so that you can take advantage of additional learning opportunities, perfect your performance skills, and meet other musicians just like you.
Sage Music School Locations
Sage Music School has been rated 5 / 5 on Yelp
No matter what your goals and aspirations, we would be delighted to help you achieve them.