The trumpet is the oldest and most recognizable of the brass instruments. A bright and prominent solo voice in the classical and jazz idioms, playing the trumpet demands a masterful knowledge of the history and the traditions of the instrument.
Whether you are just starting out, returning to the instrument after a lengthy hiatus, or simply want to further your musical education, our trained teachers will show you how to play the trumpet properly without injury, allowing you to fully idealize the music you want to create, whatever the style may be.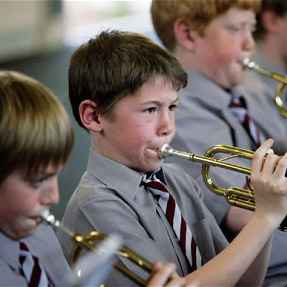 Trumpet Teachers
Our trumpet teachers have earned Master's Degrees in music, and have been trained in Sage Music's unique and progressive approach to music education. Our teachers are both professional performers and dedicated teachers committed to your musical growth. At Sage Music, our teachers will created dynamic lesson plans based on you and your individual goals and needs.
Have taken guitar lessons for over a year here with Jason - fantastic teacher, highly recommended.

Cillian S.

Sage Music School is the best choice I made for my daughters. I have three daughters playing three different instruments. They did an outstanding job in scheduling their music classes all at the same time. They also are very flexible with our classes. My girls enjoy practicing and always look forward to meeting with their wonderful teachers. The teachers are fantastic, patient and professional!

Eloisa F.

Me and my daughter loved the consultation with Jason, and Jasmine was very helpful with all my questions.

Sandra C.
REASONS TO CHOOSE SAGE MUSIC FOR YOUR TRUMPET LESSONS
Instead of learning songs, we'll teach you the skills you need to play any song. Our goal is to enable and empower you
Our trumpet lessons are customized for your individual goals
Our trained trumpet teachers will help you make consistent and steady progress with our ARPEGGIO™  lesson system
Monthly concerts, recitals, and events will give you the opportunity to meet others just like you
Sage Music's warm and inviting atmosphere will make you feel welcome, no matter your skill level
Sage Music School has been rated 5 / 5 on Google
Music school founder shares his story and passion for music
Trumpet Lessons Pricing
Discover the best rates for guitar lessons with starting price from $207 tuition per month including 4 private lessons.
Admission to our concerts, recitals, workshops, masterclasses, and other events so that you can take advantage of additional learning opportunities, perfect your performance skills, and meet other musicians just like you.
Find the best prices for lessons that suit your individual needs in welcome and friendly atmosphere that guarantee proven results now.
Sage Music School Locations
No matter what your goals and aspirations are for the trumpet, we would be delighted to help you achieve them.